Bo Diddley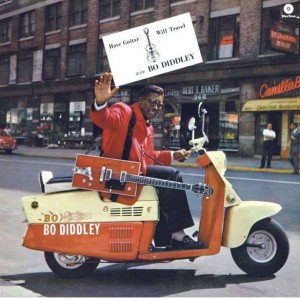 Everybody got scared when I showed up on the scene with 'boom-tch-boom-tch-boom-tchika-boom-boom', you know. All the mommas and daddies said: 'wait a minute .. my kid is wigglin' what it never wiggled before!'.
Ein Mann, eine rechteckige E-Gitarre und ein hypnotischer Groove. Der berühmte Radio-DJ Alan Freed soll den Begriff Rock'n'Roll angeblich extra geprägt haben, um Bo Diddleys Musik zu beschreiben: 'Here's this man .. he's gonna rock and roll you right outta your seats'.
Ohne Zweifel sind die Spuren die Bo Diddley als einer der wichtigsten Initiatoren für den Rock'n'Roll hinterlassen hat unüberhörbar. Eine Hommage zu seinem 5. Todestag am 02. Juni 2013.